Corporal Edward Foster VC
13th Battalion The East Surrey Regiment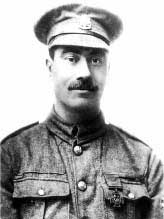 Corporal Edward Foster VC
Edward Foster was born in Streatham, London, on 4th February 1886 and enlisted on 27th July 1915. He won his Victoria Cross at Villiers Plouisch, France, on 24th April 1917 and was presented with it by King George V at Buckingham Palace on 21st July 1917. He was discharged from the Army on 24th October 1918.
He was employed as a dustman by Wandsworth Council and in recognition of his gallant record the Council promoted him to Dusting Inspector in which capacity he continued working for twenty-six years.
He died at Wandsworth on 22nd January 1946. His Victoria Cross and other medals were sold by Sothebys on 30th June 1988 for £11,000.
His Citation reads:-
"For most conspicuous bravery and initiative. During an attack the advance was held up in a portion of a village by two enemy machine guns which were entrenched and strongly covered by wire entanglements. Corporal Foster, who was in charge of two Lewis guns, succeeded in entering the trench and engaging the enemy guns. One of the Lewis guns was lost, but Corporal Foster with reckless courage, rushed forward and bombed the enemy, thereby recovering the gun. Then getting his two guns into action, he killed the enemy gun team and captured their guns, thereby enabling the advance to continue successfully."
Date of Act of Bravery
24th April 1917
Villers – Plouich

London Gazette
27th June 1917
When asked about his Victoria Cross by a Daily Express newshound in 1937, 'Tiny' Foster, ex-corporal of the 13th East Surreys, exclaimed 'My VC. I want to forget it. But it did me a bit of good all the same. I was made a dustman before the war and the VC made me an Inspector, so I'm glad I got it.' Ever contented with his lot in life, the big man continued, 'I'm quite happy in my job, with bit o'gardening, bit o'pictures and bit o'football.'
Edward 'Tiny' Foster was a South Londoner, born and bred. After a rudimentary local education he was employed by Wandsworth Borough Council and, following the outbreak of the Great War he responded to the call and volunteered for the 13th Service Battalion, The East Surrey Regiment composed almost entirely of local men. The Battalion soon became known as the 'Wandsworth Regulars', and 'Tiny' Foster, at nigh on six foot two and twenty odd stone, quickly became a familiar and, no doubt respected, member of the battalion. After training in Southern England, the 13th East Surreys arrived in France on 3rd June 1916, and went into the trenches opposite Lens, north of Albert. Later, the battalion moved to the Somme Valley and was in the front line near Bouchavesnes, when the German retreat to the Hindenburg Line commenced in the Spring of 1917. It was in April, during the capture of Villers Plouich, in front of the Hindenburg Line, that 'Tiny' won his Victoria Cross. His citation is shown above.
His gallantry was also recognised by the French who awarded him the Medaille Militaire. On 21st July, he was decorated in the forecourt at Buckingham Palace by King George V. 'Tiny's' battalion went on to see a good deal more fighting and was later heavily engaged in the Battle of Cambrai, where it was involved in the action at Bourlon Village. In 1918, the 'Wandsworth Regulars' suffered devastating losses in the Battle of Lys and were surrounded at Fleurbaix.
After the war, 'Tiny' was elevated by a grateful Council to the post of Dusting Inspector, and became a familiar figure on his rounds of Wandsworth, Putney and Roehampton. On Armistice Day 1920, he was one of the VC's present at the burial of the Unknown Warrior in Westminster Abbey. Over the years he attended various reunions and other events, including the VC Garden Party at Buckingham Palace in 1920 and the VC Dinner at the House of Lords in 1929. It is not uninteresting to note that as an active member of the British Legion, he was one of the three VC's who turned out to support the County Rally of the Legion at Guildford in 1932. 'Modest and unassuming', 'Tiny' Foster, 'a big man with a big heart' died suddenly on 22nd January 1946.
Extract from the Surrey Advertiser and reporter Jane Garrett
to whom we gratefully acknowlage permision to print these extracts.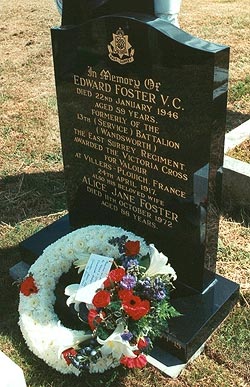 Words of remembrance:
The headstone for
Cpl Edward Foster VC.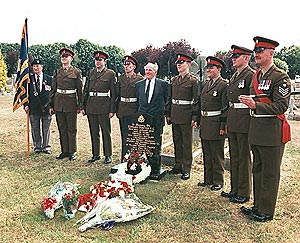 Tribute to a Surrey hero: Cpl Edward Foster VC's new headstone was unveiled by his son Dennis and an honour guard.
Headstone is tribute to brave soldier
by Jane Garrett
A SURREY First World War hero's grave has finally been given a headstone fit for a soldier who won the Victoria Cross and Medaille Militaire.
A detachment from A (Anzio) Company, 3rd Bn The Princess of Wales's Royal Regiment paraded at the Guildford TA Centre before forming an honour guard for Cpl Edward Foster VC, of The East Surrey Regiment, who died in 1946.
The guard consisted of seven NCOs, plus around 70 family and friends, who laid wreaths at Cpl Foster's grave in a ceremony at Streatham Cemetery. They had raised £700 for a black granite headstone bearing the regimental badge of the East Surreys and brief details of his bravery which won him the VC. Until now, his grave has been marked by a stone flower holder inscribed "Dear Ted".
Colour Sgt Andy Stokes read the citation from the London Gazette, June 27, 1917 and the headstone was unveiled by Cpl Foster's son, Dennis.
The J/NCO's mess of A Company has adopted Cpl Foster as its role model.
At a recent exhibition at Sotheby's London, on the occasion of the 50th Anniversary of the Order and Medals Research Society a number of important British gallantry awards were loaned by private collectors and national institutions. The awards covered the period from 1800-1950. Included in the exhibition were the medals of Admiral Sir John Duckworth KB, who was officially mentioned for his gallant conduct at The Battle of the Glorious First of June, and Admiral Sir Charles Bullen GCB, KCH who was present at the battle. A number of Royal Marine medals were also on display including those of Corporal W E Sparkes DSM whose exploits were recorded on film, 'Cockleshell Heroes". A private collector very kindly loaned the medals of Corporal E Foster VC, 13th Bn The East Surrey Regiment.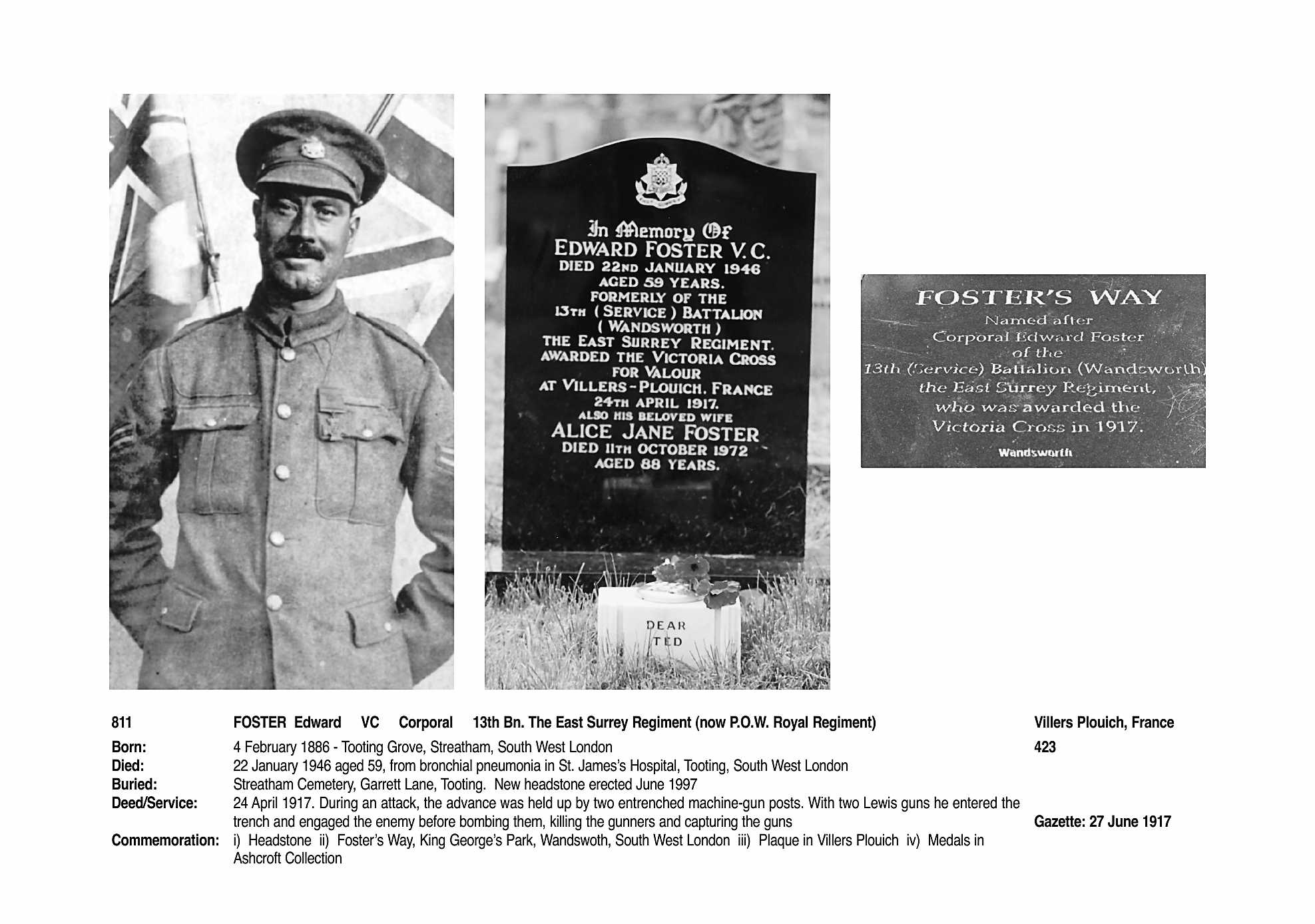 (Click image to view enlarged)
Related Links
---
External websites: